Knights Templar Keychains
Showing all 1 result
The Templar Cross is the symbol, representing the most well known Christian religious orders of chivalry – Templar. The order was established in 1118-1120, after the first Crusade of 1096. This order was specially created to help the new Kingdom of Jerusalem in the resistance of Muslims as well as help those pilgrims who wanted to visit Jerusalem after its conquest (many pilgrims were killed as they tried to cross through the Muslim-controlled territories). Templar was a large organization or truly devout Christians, whose top-notch goal was to protect all the European travelers willing to visit the Holy Land. They were also carrying different military operations.
Through the primary mission of the Templars was to protect pilgrims from Muslims or another danger, they progressively expanded their duties. They became the main, the most powerful, highly skilled, and the fearless defenders of the Crusader state in the Holy Land.
It was a powerful and reputable group of fighters, driven by intense religious fervor. They were forbidden to retreat unless one of them was fighting against 3 or more opponents.
Today, we have a wide assortment of Templar clothing, accessories, and more that remind us of famous Templars.
Templar Cross Keychains
Keychains are a little, but a handy gadget used to hold your keys. Today there is a wide choice of keychains that can help us in our daily lives. Some Masonic key chain styles feature simple clasp on to your belt when there are those who can provide you with excellent access to cool autofill. This small but highly essential accessory gives us security against misfortune. Masonic keychains can be used in a vast number of various ways. You can use them as gifts, identity cards, take-home gifts, promotional gifts, bottle openers, and as talismans. The last one is what we offer at Knights Templar. At our store, you can choose the keychain you like the most, the keychain with well-known Knight Templars' ornament – the Cross. Wearing this keychain will help you always remember about the brave warriors who were fighting for Christianity and protecting the Holy Land. It will become the small assistant that will still help you to do your best to achieve the desired goals. Have a look at our collection of Knights Templar keychains and buy the one you like the most!
-44%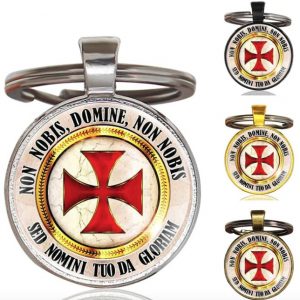 Select options
Internet Exclusive – Not Available On Store Made by High Quality Material Unisex Keychain Only Few Stock Left